This page conforms to the XHTML standard and uses style sheets. If your browser doesn't support these, you may not see the page as designed, but all the text is still accessible to you.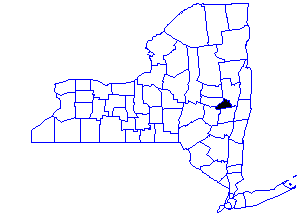 Coordinated by Robert G. Sullivan, Schenectady County Public Library
The Schenectady Digital History Archive is a service of the Schenectady County Public Library and a member of the NYGenWeb, USGenWeb and American History and Genealogy Projects and the American Local History Network, dedicated to making information about Schenectady's heritage more accessible to researchers around the world.
Schenectady County was formed from Albany County on March 7, 1809. It has a population of 146,555 (2000 U. S. Census, twenty-second in New York State) and an area of 206 square miles, making it the second smallest in the state outside of New York City. The name "Schenectady" is derived from a Mohawk Indian word for "on that side of the pinery," or "near the pines," or "place beyond the pine plains."
Schenectady was known as the "city that lights and hauls the world" because of its prominent place in the locomotive manufacturing industry and the presence of the headquarters of the General Electric Company.
Research Resources for Schenectady County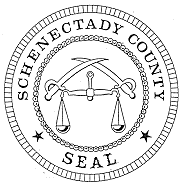 Where to Go
Historical and genealogical resources may be found at the Schenectady County Historical Society, the Schenectady County Public Library, county, city and town clerks and historians and many other organizations. See Research Help for more information.
Don't forget the catalog of the Southern Adirondack Library System/Mohawk Valley Library System, which includes the holdings of public libraries in Fulton, Hamilton, Montgomery, Saratoga, Schenectady, Schoharie, Warren and Washington Counties; the Upper Hudson Library System catalog (Albany and Rensselaer Counties), and Excelsior, the New York State Library's catalog.
How to Get There
The Schenectady County Public Library is located at the corner of Liberty and Clinton Streets, across a corner from the Efner History Research Library at City Hall and down the street from Union College. The Historical Society is located a few minutes west of the library (drive to the end of Union St., take a right on Washington Ave., and it's on your left). The New York State Library is about 45 minutes east in Albany (see parking and location information). You might want to check our frequently beautiful, but always interesting weather before you come. For more information about our area, see our Schenectady County and Capital District area links.
Directory
Family Genealogies, Biographies, Pearson's First Settlers, Family files at the Schenectady County Historical Society, Hudson-Mohawk Genealogical and Family Memoirs …
Baseball, Buildings, Canals, Cemeteries, Census, Churches, City Directories, Coroner, Education, Health and Medicine, Labor, Military, Mohawk River, Pictures, Property Assessments and Land Records, Vital Records, Wills, Yearbooks
Schenectady County, City of Schenectady, Duanesburg, Glenville, Niskayuna, Princetown, Rotterdam, Scotia, Union College
Schenectady County Locations and Historic Districts in the National Register of Historic Places
Business and Industry
Railroads, General Electric, Civitello's Italian Pastry, Schenectady International
Don't Miss:
If you have any suggestions for sites to add to this page, please let us know.
Go to top of page
http://www.schenectadyhistory.org/index.html updated February 16, 2018
Copyright 2018 Schenectady Digital History Archive — a service of the Schenectady County Public Library